[S] Jade: Retrieve package.
GUYS GUYS WHAT THE HELL IS HAPPENING
I THOUGHT BEC WAS A DOG BUT APPARENTLY HE'S A NUCLEAR THINGIE MADE OF FUCKING LIGHTNING??? AND JADE IS ABOUT TO SHOOT HIM OH MY GOD THIS CAN'T END WELL
>ARRAIGN
Ok I… I guess I get to aim? I DON'T WANT TO SHOOT BEC HE'LL PROBABLY EXPLODE
There's nothing else to do though
LET'S GOAAAAAAAAAHAHAHAHAHAHA WHAT
HE'S BULLETPROOF HOLY SHIT
>ARSENALIZE
WE WERE JUST TINYFIED AND TELEPORTED… ON TOP OF… THE FUCKING BULLET
HE'S
A
GODDAMN
REALITY
WARPER
JADE LIVES ON A DESERTED ISLAND NEXT TO A VOLCANO AND A MYSTERIOUS FROGGY TEMPLE THAT GREW THERE, ALONG WITH THE STUFFED CORPSE OF HER GRANDPA AND SOME GODLIKE ABOMINATION THAT COULD PROBABLY END HER LIFE WITH A TWITCH OF ITS NOSE
!!!!!!!
>ALLITERATE, WAIT NO, ARTILLERATE
I CAN SEE INFINITY
JADE PROCEEDS TO NOT GIVE A SHIT ABOUT ANY OF THIS
>ARMAMENTIFY
WE JUST….. TELEPORTED TO EVERYONE'S HOUSE…. WHY THE HELL DOES JADE BOTHER WITH SENDING PRESENTS????
THE PACKAGE IS HERE BUT WE'RE PROBABLY GONNA VISIT THE FUCKING SUN BEFORE WE ACTUALLY GET IT
>ARF
SHE JIST TOLD HIM TO FEZCH THE FUCKING BULLET AND HE DIDD
G… GOOD DOG…….. BES FRIEND…… I………..
JADE…… JADE BBY YOu….. WHAT EVEN ARE YOU…..
I'M GONNA FUCKING SCREAM SHE JUST PASSED OUT AGAIN THIS IS A REGULAR THING FOR HER
YOU ARE…. COMPLETELY INDESCRIBABLE….
Dear lord Jade's home life turned out even weirder than I predicted??? And a whole lot more disturbing, somehow
Hussie just keeps one-upping himself
I can't even begin to think about all the ways this could potentially change EVERYTHING

Are Bec's powers limited to this universe, or could he just send Jade straight to Skaia whenever he feels like it???
Where did he even get them? Where did he even come from??? Experiment gone wrong/right????? Eurgghhh
What are you…
OOOOOOOOOOOOH NOOOOOOOOO HE'S CUTE TOO
AND LOOK AT JADE OH MY GOSH  (/ω\)
Rose: Check self for any mixed atoms with cat.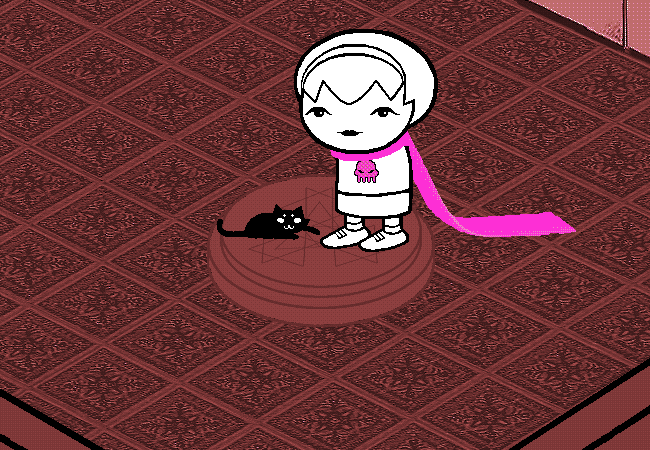 Nope, no mixed atoms. Looks like you and the kitty kept your genes to yourselves.

Your new kitty whose name is…

You'll think of one later.
Oh man I really really hope she names him "Menes"
Or maybe "Istasha" though that was a female entity ┗(・-・)┛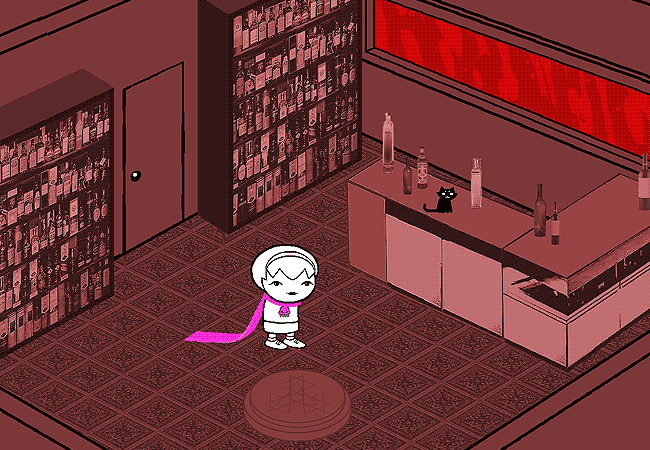 Oh, you're back home. The well-stocked bar and the vantage from the window tells you this is your MOM'S room. Or at least what you thought was her room.

You decide not to be especially melodramatic about this revelation.
Holy shit that stuff is probably worth a small fortune
She looks like a classy lady so I'm gonna assume she wouldn't stock her shelves with ordinary booze
WAIT, does that mean she *still* sleeps in the lab?
She's at least thirty does she have drunk tea parties with her mutant paradox cat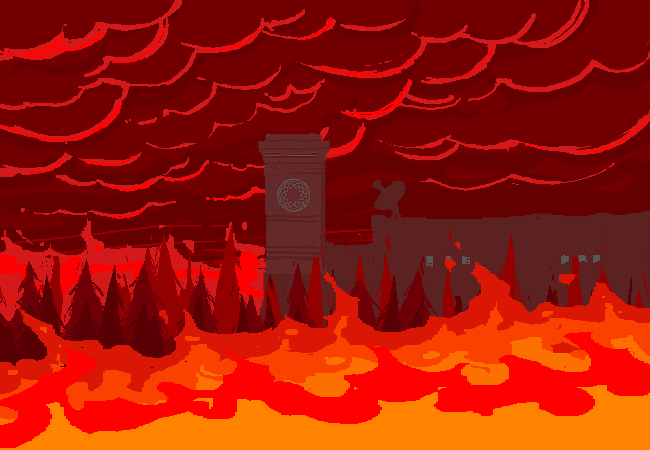 Where *is* Mom, anyway? The lab hasn't yet blown itself up for some reason, but the smaller meteors have stopped, meaning there's probably a big one coming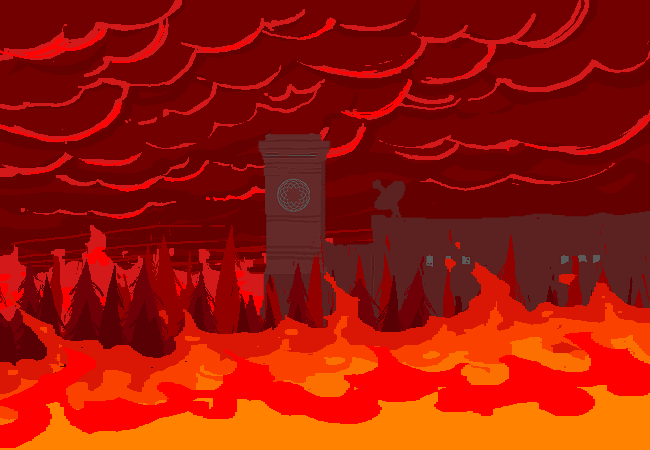 SHIT SHIT FUCK I DIDN'T MEAN *RIGHT NOW* OHMYGOD THERE'S NO WAY THE HOUSE IS STILL STANDING ROOOOOOOOSE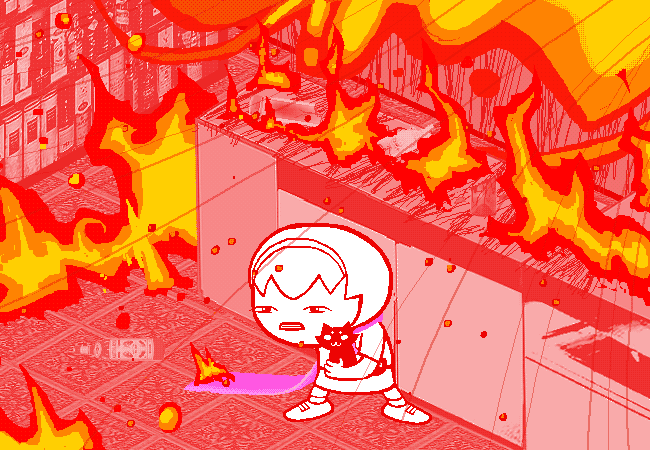 JESUS CARTWHEELING CHRIST RUN RUN RUN GO GO GO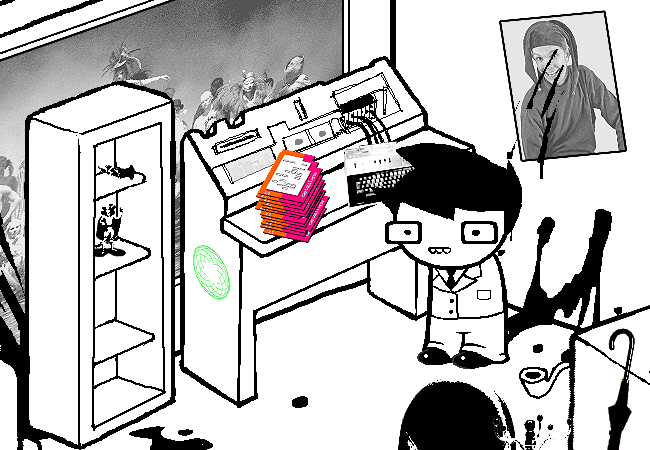 Oh you have got to be kidding me
I've been looking forward to more alchemizing but
NOW?
Urrrrghhh I guess Rose is protected by her main-character-ness but I'm still worried (´Д`)
Wait, no, we're back to Jade
The last time we saw Dave, he was tumbling down an endless staircase if I'm not mistaken, he still doesn't have the disc!!!!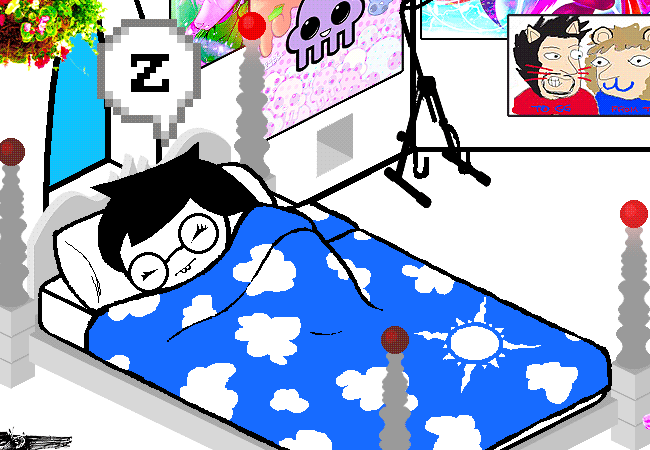 And now these things on Jade's bed are blinking? They kinda look like the four spires I guess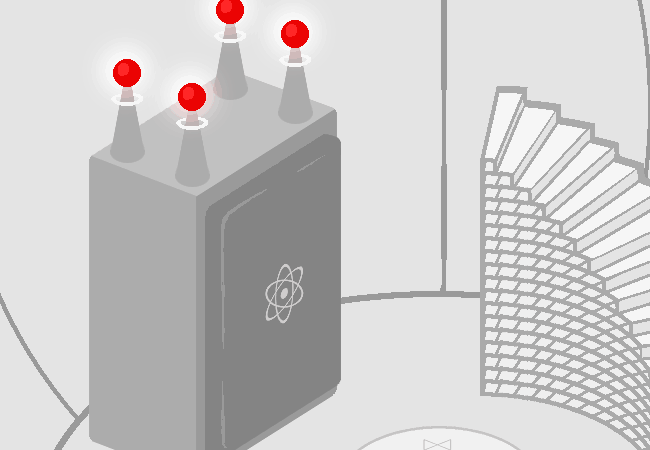 HAHA.
WHAT.
She… she has a robot version of herself I guess? Probably there to… sort of take her place and do her chores while she sleeps?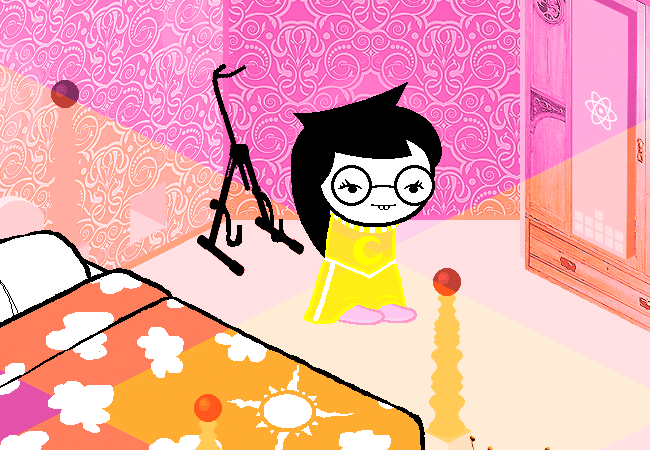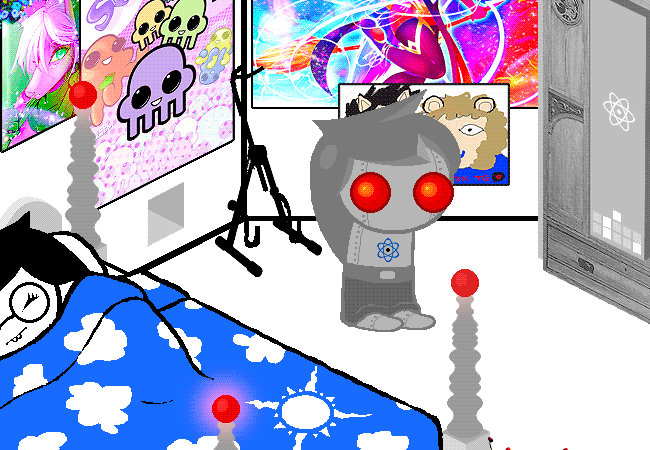 …Who just dreams about being in their room?
That outfit tho. Cute as hell. Reminds me of the golden kingdom a bit. I kind of want it (・ω・)
So, I guess the dreambot mirrors her actions while she's dreaming? What's even the point of that??? If anything, it seems potentially harmful to her original self
Jade: Obliquely foreshadow future through interpretive dance
That's totally something she would do, isn't it
That's not even a dance, that's you being stuck in an invisible box and feeling rather sheepish about it
What's that blue circle thing down there
Some kind of pole attached to the bed? It's not there in normal-vision
OK I UH. IF I TILT MY SCREEN WAY BACK IT ACTUALLY SEEMS LIKE
THAT'S AN ARM.
JUST.
A RANDOM FUCKING ARM STICKING OUT OF JADE'S BED.
OK I GUESS IT'S STARTING TO SEEM MORE LIKE A DREAM NOW.
This is freaky as hell though, where is it coming from??? Is Jade really just dreaming it up? It looks like it's reaching through some kind of portal INTO HER DREAM and that unsettles me greatly (・_・ )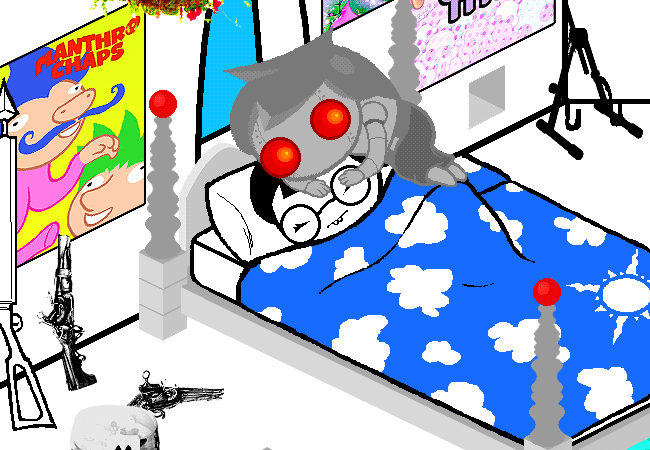 You climb into bed and try to get comfortable. But some sort of invisible force is pressing down on you, a strange feeling of cold heavy metal.

This happens every time you try to get into bed! No wonder you can never get any sleep.
Oh god dammit, this is exactly what I meant
Thing is downright hazardous to her health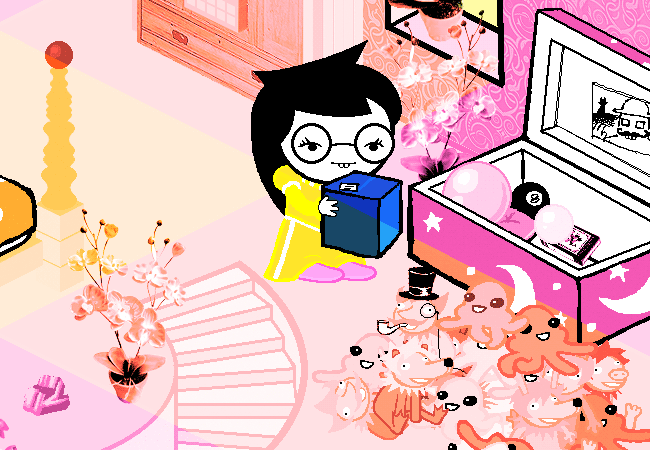 Aw yeah now we're getting somewhere
Dream mechanics have the potential to be really interesting
The dreambot too I guess, but I'm still not sure what its purpose is supposed to be
You stop all this flying around nonsense and examine John's birthday package.
In your DREAM? That's… probably not a good idea… She probably won't see what's ACTUALLY inside it…
Good thing you already know what's inside. Otherwise you would surely be consumed by curiosity and suspense. You sincerely pity anyone who might be forced to endure such a fate.
YES HUSSIE I GET IT ALREADY
MY SUFFERING AMUSES YOU I KNOOOOOOW
What the hell is even going on with John's chumhandle, now it suddenly says GT! We only get to see it in dream-vision… This is probably significant…
Months in the past…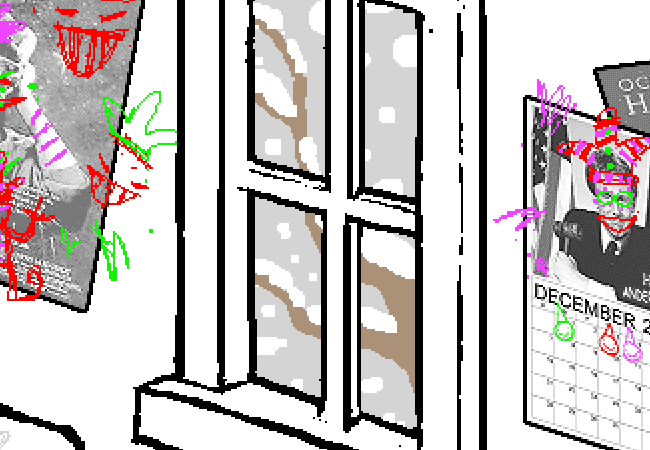 Months in the past, John drew imps all over his walls??? Shit is this more "DESTINED FROM THE VERY BEGINNING" stuff
…Wait, why would he scribble all over his posters, he loves those! And, as far as he's aware, he's drawing clowns, which he hates!
Wait, I'll check whether that's the same poster that's hanging there now…
YEAH. THAT'S MAC AND ME. HOW DID HE CLEAN THIS OFF. I MEAN I GUESS HE COULD HAVE GOTTEN A NEW ONE? BUT HE DOESN'T EVEN LIKE MAC AND ME THAT MUCH IF HE FELT LIKE DESTROYING IT FOR WHATEVER REASON I DON'T THINK HE'D REPLACE IT
DAD *DEFINITELY* WOULDN'T DO THIS AND JOHN DOESN'T SEEM TO HAVE ANY OTHER FRIENDS???
ARGH BY NOW I KNOW ABOUT SO MUCH SUSPICIOUS STUFF THAT OBVIOUSLY MEANS SOMETHING BUT I CAN'T FIGURE OUT WHATTTTT ヽ(≧Д≦)ノ
sth1963 likes this
desmodus-roboticus likes this
confidentiallyconfusing likes this
fletcher612 likes this
trivium-theknightofhope reblogged this from land-of-boredom-and-confusion
trivium-theknightofhope likes this
tortoisetyphoon likes this
cjcroen1393 likes this
calliopes-choice-cherub-rump likes this
mmarycontrary likes this
charliebobson reblogged this from land-of-boredom-and-confusion
aleks94r likes this
homosexualstbh likes this
madd-addam likes this
shining-supernova likes this
indivicivet likes this
voyageviolet likes this
askflashbulb likes this
oursisthekaiju likes this
liveblog-enthusiast likes this
frouval likes this
harmonicart likes this
starryendlesssky likes this
mistytpednaem likes this
theshieldswordandcrown likes this
azrakan likes this
valiumd reblogged this from argentarachnids
valiumd likes this
argentarachnids reblogged this from twinfishies
sburbanentity likes this
ryaer likes this
chronos-tachyon likes this
argentarachnids likes this
twinfishies reblogged this from land-of-boredom-and-confusion and added:

I'm giggling so unbelievably hard at this…

paradox-clones reblogged this from madynn
gimmetitanstuck reblogged this from land-of-boredom-and-confusion
madynn reblogged this from land-of-boredom-and-confusion and added:

THE ARM OH MY GOD

madynn likes this
dngay likes this
lebni likes this
insertdisc4 reblogged this from land-of-boredom-and-confusion
unoriginalartist likes this
spoopysaurus-regina likes this
takaishimaru likes this
theworstpersonintheworld likes this
pagestuck likes this
shadowofimpendingdoom likes this
hellolittlefish likes this
lazy-lurker likes this
nanakishi reblogged this from land-of-boredom-and-confusion and added:

They found John's arm holy shit
Short URL for this post: http://tmblr.co/ZuwqTti9U6Y3